FUNCTIONAL SAFETY
IEC 61511
FOR THE SECTOR INDUSTRIAL PROCESSES
The safety of industrial operations is ensured by the safety instrumented systems (SIS). These allow reliable and safe shutdown in abnormal conditions beyond the control of conventional control systems (BPCS) or operators.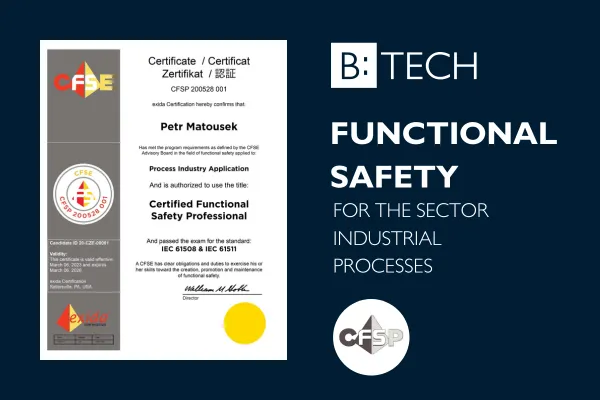 REDUCE THE RISKS OF YOUR BUSINESS
We have a team of experienced specialists in the field of process automation and certified functional safety specialists. We offer services within the entire life cycle of functional safety:
Cooperation in the analysis of process hazards and risks (e.g. HAZOP)
Analysis and design of protective layers (LOPA)
Determining the safety integrity
Processing the Safety Requirements Specification (SRS)
Conceptual design, review and verification of the SIL safety level achieved
Detailed design and programming of Safety Instrumented Systems (SIS)
Implementation and commissioning of SIS
Independent Functional Safety Assessment (FSA)
Development of a functional safety plan
Creation of a maintenance plan and definition of SIF proof tests
Are you interested in our experience in the field of functional safety and why we decided to invest in certification and how this service can be beneficial for you? Read a story from a project we did for end customer SHELL in Gibraltar.
CASE STUDY